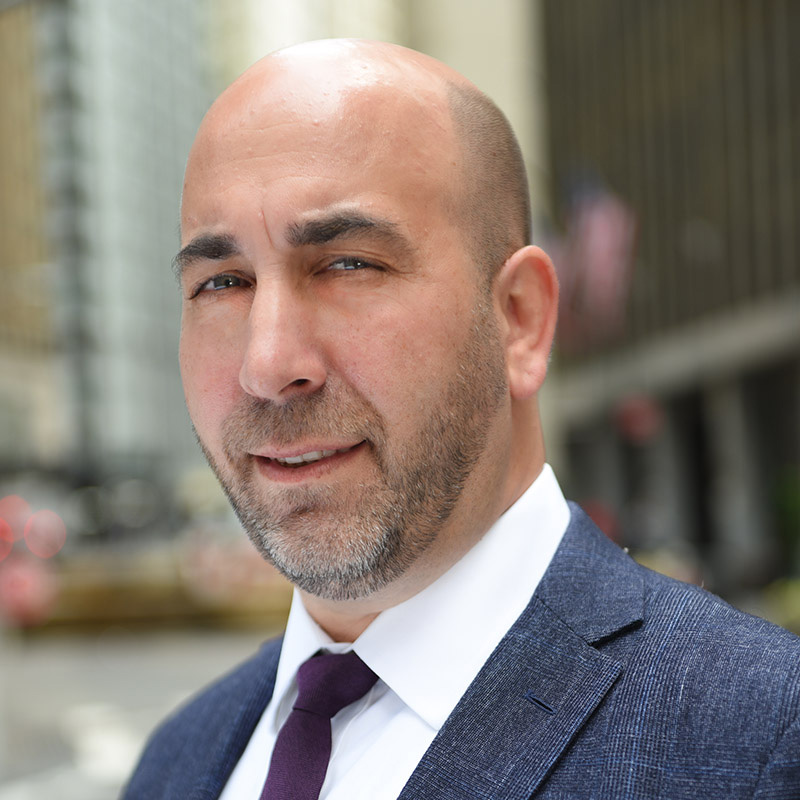 Eylan Schulman is a founding partner of Moskowitz Colson Ginsberg & Schulman. Eylan is a seasoned litigator and trial lawyer with experience handling civil litigation and defending criminal prosecutions in federal and state court, in addition to complex arbitration proceedings. Eylan has been the lead attorney in more than 35 jury trials in both federal and state courts, including eight federal jury trials in the last two years in all four New York districts.
Eylan represents a diverse group of clients –individuals charged with federal crimes, corporate executives embroiled in litigation and victims of civil rights abuses. He has worked on numerous high-profile and sensitive matters involving complex healthcare fraud, RICO, international narcotics trafficking and civil rights violations. Eylan's cases have appeared in a variety of media outlets including Law 360, The New York Times, Reuters, Associated Press and USA Today.
In June 2022, along with partner Avi Moskowitz, a jury acquitted Eylan's client of all charges in a case brought by the Department of Justice in the Eastern District of New York alleging a $165 million Medicare fraud scheme.
In September 2022, along with Michael Hueston, Eylan secured an $890,000 verdict, with punitive damages, against the City of New York and members of the NYPD's notorious 75th precinct anti-crime unit in the Eastern District of New York.
In December 2022, Eylan recorded a six-figure verdict, plus punitive damages and attorney's fees, against New York State corrections officers in the Western District of New York, where a federal jury found that corrections officers violated his client's constitutional rights.
Eylan holds an appointment to the Criminal Justice Act Panel for the Eastern District of New York, through which he represents indigent defendants in federal criminal proceedings.
Eylan serves as an Arbitrator on the American Arbitration Association's no-fault insurance panel. In this capacity, he was appointed by the Superintendent of the New York State Department of Financial Services to resolve coverage and billing disputes between medical providers and insurance companies.
Eylan is an adjunct professor at Pace University School of Law, where he teaches courses in Lawyering and Trial Advocacy. In 2015, he was awarded the Barbara Salken Outstanding Professor Award. Previously, Eylan taught Trial Advocacy and coached trial teams at St. John's University School of Law. He received two awards while on the St. John's faculty – the inaugural Frank S. Polestino Recognition Award, recognizing Eylan's work in creating the nationally-recognized trial team, and the BLSA Distinguished Alumni Award, for efforts coaching the BLSA advocacy teams.
Prior to entering private practice in 2012, Eylan served as a Senior Counsel at the New York City Law Department, where he spent four years in the Special Litigation Unit, litigating high-exposure and high-profile cases against the City of New York, followed by three years as a trial attorney specializing in police and corrections misconduct cases. While at the Law Department, Eylan received the 2010 Division Chief Award.
Professional Affiliations:
New York State Association of Criminal Defense Lawyers
Top 50 Verdicts in New York 2022
Adjunct Professor of Law, Pace University Elisabeth Haub School of Law
New York City Law Department, Division Chief Award
Managing Director, Polestino Institute for Trial Advocacy at St. John's University School of Law
Earned an acquittal at trial for a medical professional charged with Medicare Fraud
Obtained non-custodial sentence for client charged with racketeering in connection with 50-person indictment charging three murders, one attempted murder, racketeering, drug trafficking, money laundering and firearms offenses
Acquittal at trial for client charged with firearms offense in high-profile matter tried under intense media scrutiny. Client was convicted of two other charges
Substantially below guidelines-sentence for client who pled guilty to health care fraud
Represent key witness in high-profile Jam Master Jay murder case
Verdict Search Reporter "Big Defense Win of 2008" after Court found NYPD shooting of unarmed participant of a Brooklyn gas station robbery justified as a matter of law
$725,000 settlement for man shot by an NYPD officer. Following arrest, Plaintiff was found in possession of a large quantity of cocaine
$350,000 settlement for man incarcerated for eight months, though a Grand Jury indicted client based on the testimony of a complaining witness
$600,000 settlement after verdict for client assaulted by manager of hookah bar
$275,000 recovery for man issued Desk Appearance Ticket for trespassing and held in custody for two hours. Case settled after jury verdict finding defendant officers violated client's civil rights
J.D., St. John's University School of Law, 2004
B.A., State University of New York at Albany, 1999
New York State
United States District Courts for the Southern, Eastern, Western and Northern Districts of New York